TESS Asteroseismic Science Operations Center
Welcome to TESS Asteroseismic Science Operations Center
The TESS Asteroseismic Science Operations Center (TASOC) provides asteroseismological data from the NASA TESS mission to astronomers who are members of the TESS Asteroseismic Science Consortium (TASC). It is also the platform used to facilitate the international collaborations within TASC.
If you are a member of TASC, please log in below...
In order to have access to TASOC you have to be a member of TASC. Please see the "New TASC member" page on how to become a member.
News
19th Sep 2018: Improvements to TIC Search
We have started some improvements to the TIC Search. We have already introduced a couple of more columns in the table (Gaia information and "disposition") and it is now possible to search for targets using any name that can be resolved on SIMBAD.
More improvements are to come, so stay tuned...
11th Sep 2018: What did TESS actually observe in S1 and S2?
For your convenience we have added the lists of targets that were actually observed by TESS during sectors 1 and 2 on the "TASC Target Lists" page. We will also cross-check these lists against the TASC target lists to easily find out which of your proposed targets were observed in each sector.
21st Aug 2018: TASC4/KASC11 Conference Material
The slides, posters and photos from the TASC4/KASC11 conference in Aarhus, Denmark has now been made available on KASOC and TASOC. If you have any other material, like good photos you took during the conference, feel free to e-mail them to us and we can include it on the page.
TESS mission clock
Where is TESS right now?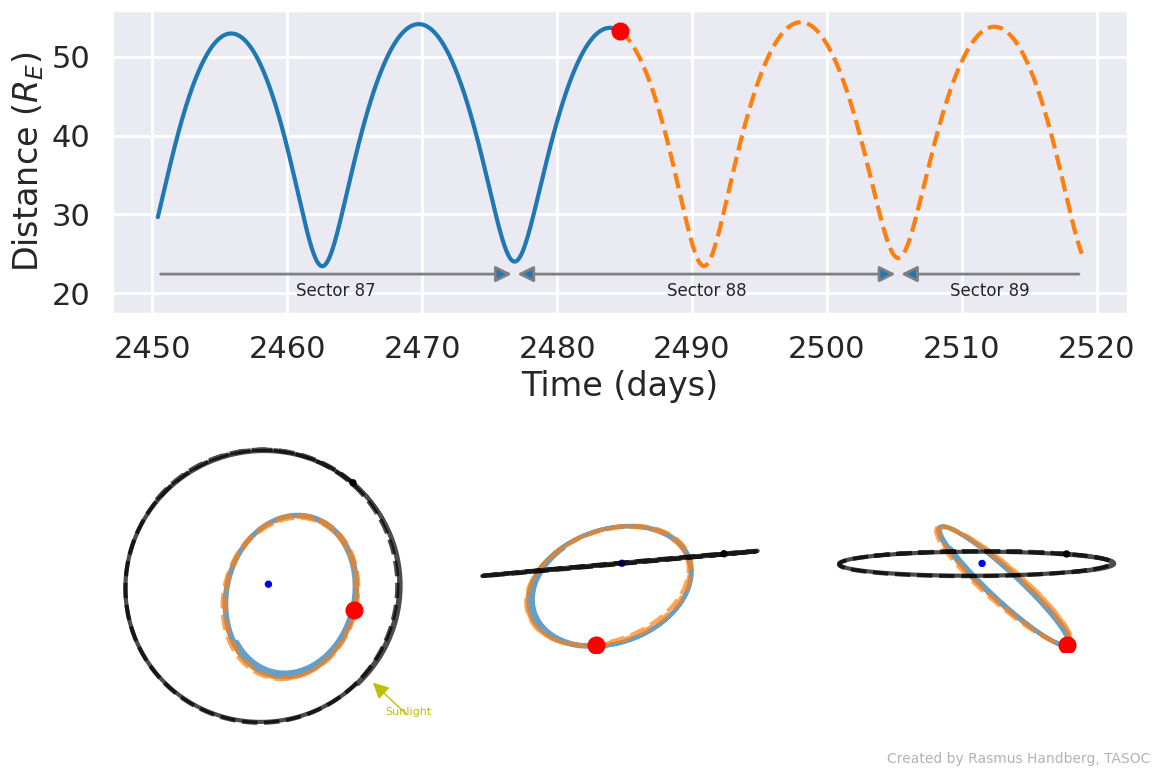 TESS News
23rd Sep 2018: Guest Investigator Program Cycle 2 deadline moved to February 2019
The TESS Guest Investigator Program Cycle 2 deadline is being pushed back to February 2019. At this time we will be soliciting programs that target Northern Ecliptic Hemisphere fields. The NSPIRES page is in the process of being updated. With the first release data planned for before the end of …
23rd Sep 2018: Sector 3 Guest Investigator target lists available
Targets selected for observations as part of the TESS GI program in Sector 3 are now available. The full list and targets for individual programs is available from the Approved Programs page.
5th Sep 2018: Sector 1 data are being processed and validated
After a successful launch on April 18, 2018, and a series of on-orbit commissioning tasks, NASA's newest planet hunter, the Transiting Exoplanet Survey Satellite, has completed its first 27-day science observation sector, and has delivered its wealth of data to the ground. TESS is now pointed at the sky …