TESS Asteroseismic Science Operations Center
Welcome to TESS Asteroseismic Science Operations Center
The TESS Asteroseismic Science Operations Center (TASOC) provides asteroseismological data from the NASA TESS mission to astronomers who are members of the TESS Asteroseismic Science Consortium (TASC). It is also the platform used to facilitate the international collaborations within TASC.
If you are a member of TASC, please log in below...
In order to have access to TASOC you have to be a member of TASC. Please see the "New TASC member" page on how to become a member.
News
18th Dec 2018: Data Search has opened - with ASCII!
You can now search for TESS data through the TASOC website as easily as you have been able to search in the TIC. Just click the "Data Search" tab at the top of the page.
You will be able to download all data from sectors 1 and 2, both from the SPOC and TASOC. And you will be able to get all lightcurves in ASCII format as well.
12th Nov 2018: Help for reading FITS files
We have added some small code-snippets on how to load in FITS files in various languages (Python, IDL, Matlab) under "Documentation and Help".

In the future, the plan is that the TASOC website will also provide ASCII versions of light curves, as an alternative to the FITS files. These do use more disk-space than their FITS counterparts and will contain less information, so we would recommend to use FITS if possible.
6th Nov 2018: Second data release
We are pleased to announce the second release of TESS data for asteroseismology from the TASC Coordinated Activity T'DA.
For this release 79 TOI targets from TESS sectors 1 and 2 have been analysed. These targets are primarily of interest to TASC WGs 1+2 (planet hosting stars and solar-like oscillators). Please note that this data is optimized for asteroseismology, and therefore the planetary transit signals have been intentionally removed.
TESS mission clock
Where is TESS right now?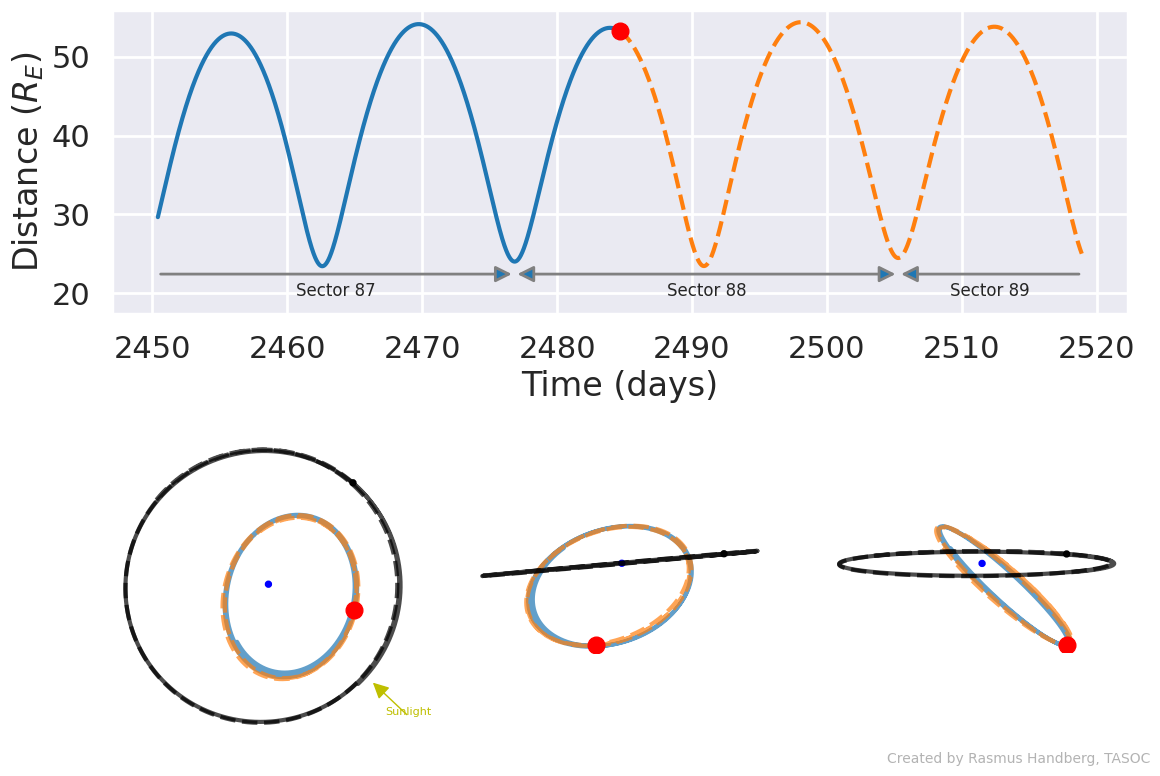 TESS News
31st Jan 2019: Guest Investigator Program Cycle 2 deadline now March 14
Due to the partial government shutdown, the TESS Guest Investigator (GI) Program Cycle 2 deadline has been changed. The new Phase-1 due date (via ARK RPS) is 4:30 pm March 14, 2019. At this time we will be soliciting programs that target Northern Ecliptic Hemisphere fields.
21st Dec 2018: TESS Sessions at the AAS Meeting January 2019
The TESS team is looking forward to sharing our excitement about the first science results, our high expectations for the two-year science survey, and our plans for the extended mission, at the upcoming winter AAS meeting in Seattle next month.
Stop by our booth in the exhibit hall to find …
6th Dec 2018: Sector 1 and 2 data now available at MAST
The first batch of TESS mission data is now available through MAST. This release includes all data from Sectors 1 and 2, observed between July 25 and September 20, 2018. This includes both FFI and 2-min cadence data.
The first release of the TESS instrument handbook is also available, as …